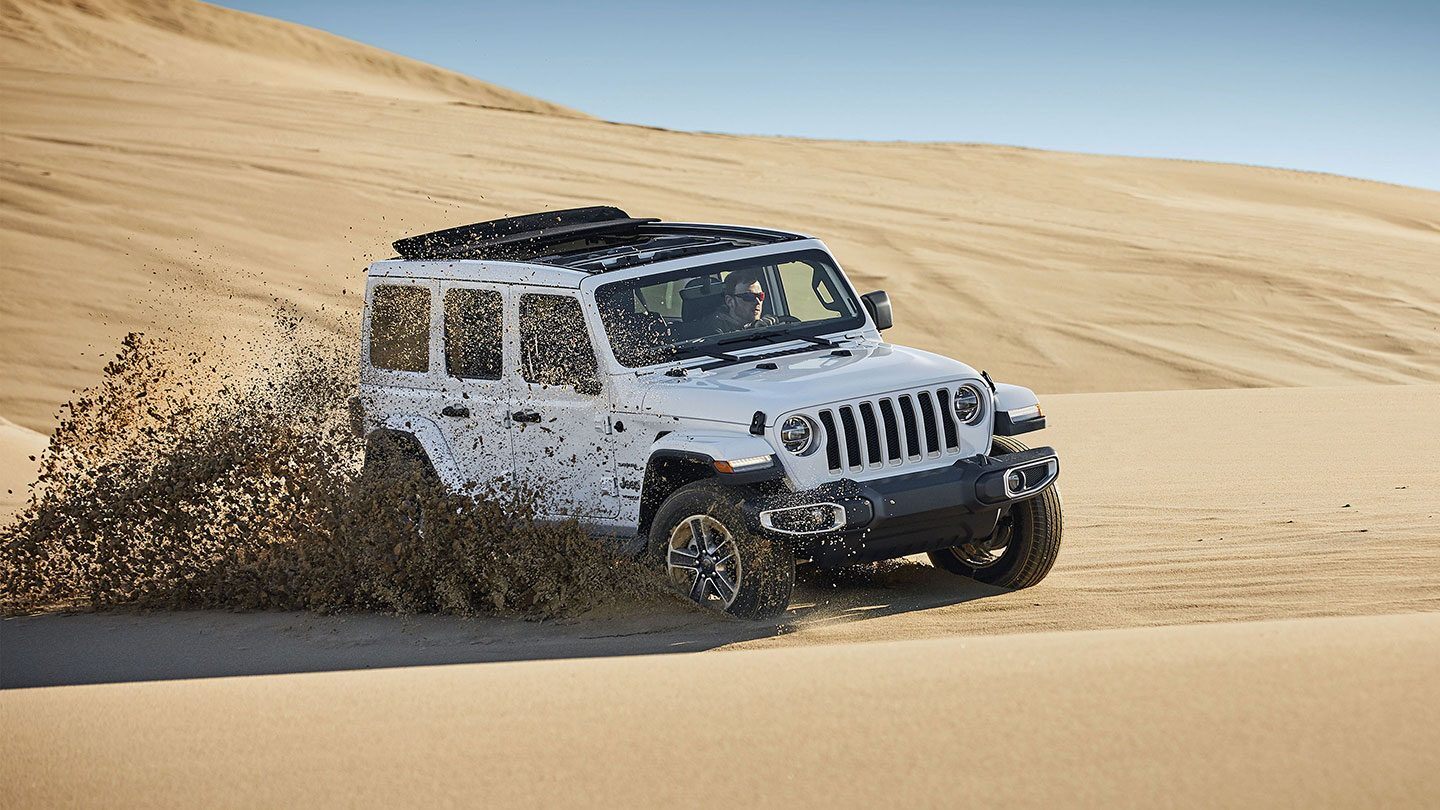 Although you might not have noticed it unless you're something of an aficionado, an all-new Jeep Wrangler was launched last year. Of course, there's no point doing anything too radical with what must be the most recognizable vehicle in the entire world, so Jeep has really just tweaked the Wrangler to make it even better than it was already. There's a new, modern engine with mild-hybrid tech onboard, so let's take a look at what you can expect from the
2019 Jeep Wrangler SUV
.
Exterior styling
The classic SUV exterior styling of the Wrangler has to be its greatest asset. After all, even though the Jeep may be a legendary and incredibly capable off-roader, a huge amount of buyers probably love the Wrangler first and foremost for the way it looks. Regardless of whichever version of the iconic Jeep you opt for, this most iconic Jeep SUV always comes standard with that outrageously cool styling.
Everybody knows what a Wrangler looks like, and it hasn't changed a great deal since its introduction decades ago. In fact, if you were to ask a small child to draw an SUV, there's every chance they'd come up with something looking remarkably like the silhouette of a Wrangler. Iconic could be an extremely overused word in the auto business today, but in the Wrangler's case, there's no other word that does it justice.
Trim levels
There are just three trim levels of the Wrangler in its standard two-door format, but if you go for the larger four-door Wrangler Unlimited, you then have no less than seven different versions to choose between. The standard Wrangler models start with the Sport, and then there are the Sport S and the Rubicon in the two-door lineup. Those four-door Unlimited variants also start with the Sport and Sport S trims, then the range goes to the Sport Altitude, Sahara, Rubicon, Sahara Altitude and the MOAB.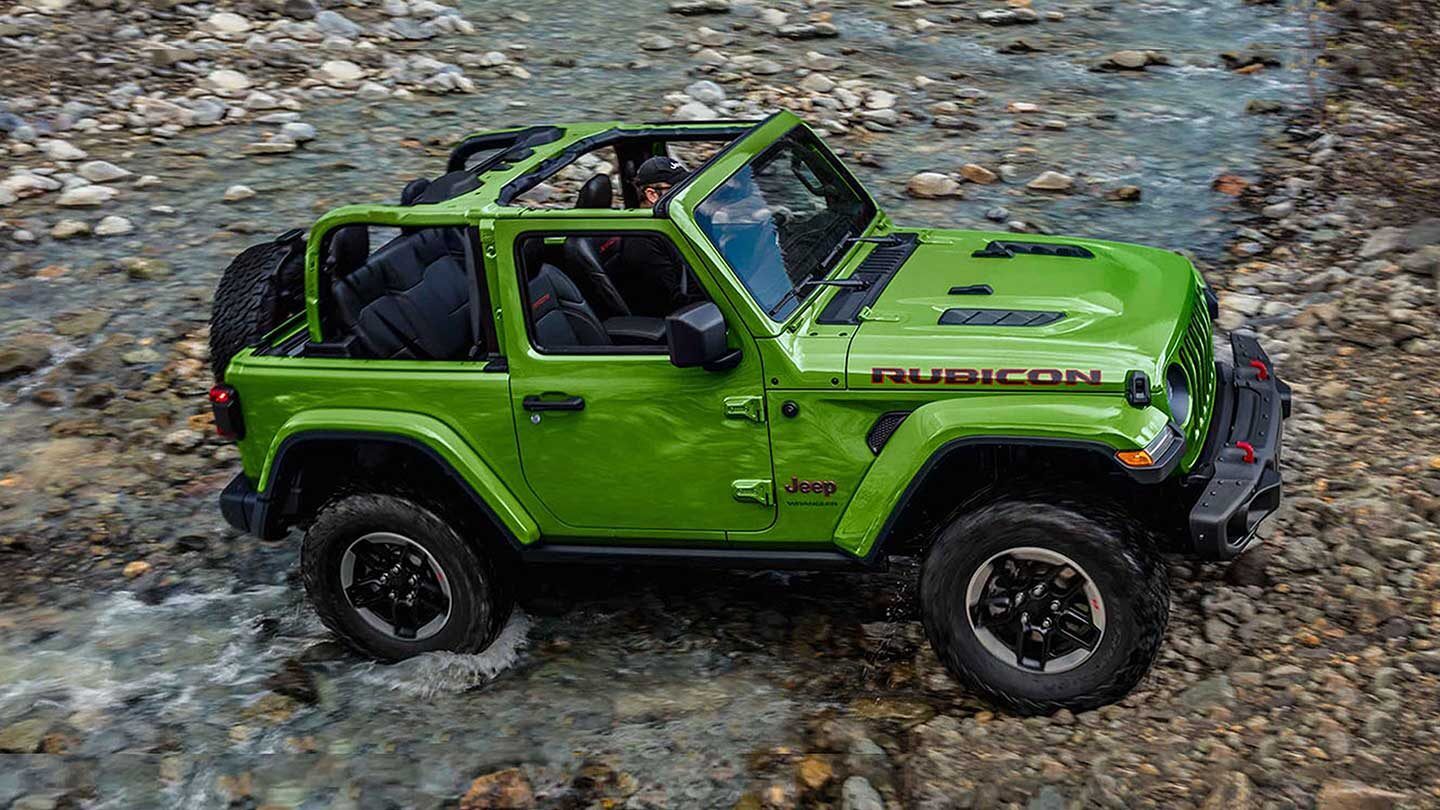 Powertrains
The standard engine in every Wrangler model is a familiar 3.6-liter V-6 that produces 285 horsepower and 260 lb.-ft. of torque, which comes mated to a standard six-speed manual or the option of upgrading to an eight-speed automatic transmission.
This new Wrangler now comes with a 2.0-liter four-cylinder turbocharged engine as an option for all trim levels, which boasts 10 hp and 35 lb.-ft. of torque more than the V-6. The revolutionary part is the unit also features a mild e-assist electrification system for improved fuel economy, so it probably won't be a surprise that the four-pot is only available with the automatic transmission.
Features and equipment
Perhaps the most important feature of the Wrangler is that every version you can buy comes standard four-wheel-drive. There's no such thing as a two-wheel drive Wrangler, and that's how it should be. The base Sport trim has hand-crank windows, but on the other hand, it also has a rearview camera and keyless ignition. There are a lot of different models available these days, especially with the Unlimited, so many of the comforts and conveniences that didn't used to be available, are now there to make your Wrangler experience even better.
The 2019 Jeep Wrangler is a vehicle that has to be driven to be properly appreciated, so get in touch with us today to arrange a test drive here at Victory Lane Chrysler Dodge Jeep Ram, your premier choice
Jeep dealer in Carlinville, IL
, and the surrounding area.